Last weekend our u13 Ladies Football Teams commenced their Ladies Football League campaigns.  This is the first year that BSJ has entered three u13 Ladies Football Teams, testimony to the growth of Ladies Football at Ballinteer St Johns.  u8 – u12 are the Go Games years for our teams and so much effort and work goes in through those years and indeed all the way back to the start at nursery, preparing our players for the transition into competitive matches. It is at u13 that our teams commence their competitive match journey at Ballinteer St Johns.   It is an exciting time for our players as they continue to develop their skills and game awareness through their ongoing training and competitive games, while having lots of fun along the way.  We wish the teams all the very best for the season and years ahead.
Under 13 A Div 2 BSJ V ST OLAFS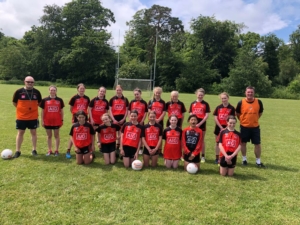 Our first game of the year was a thrilling and enthralling game from start to finish in the sunshine of Marlay Park. We had some brilliant displays led from Emma Reddan, Roisin Wall, Sine Farrelly and our goalie Iona Wu who was in top form. In a match that was end to end all the way through, the Team dug deep and battled hard to deservedly come out victorious in the end with a scoreline of 5-13 to 4-10. Now we move on to our first away fixture against Tomas Davis on Sunday week. Well done to all the girls on a super performance.
Under 13 B Div 5 Crumlin v BSJ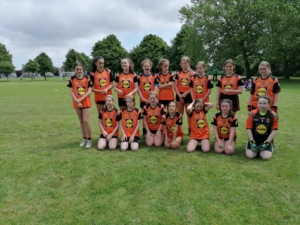 A great start by BSJ in Pearse Park with an early goal by full forward Megan Goggins however mid fielder Rebecca Gilna was a big loss in the first quarter having to go off through injury. The two sides battled it out in the first half with Crumlin managing to stay ahead. The clouds parted and the second half was played in glorious sunshine. Crumlin pulled ahead with some lovely points but the BSJ girls kept pushing to the end to come out with a score of 2-10 to 2 – 3.
U13 C Div 10 BSJ vs. Lucan Sarsfield U13 C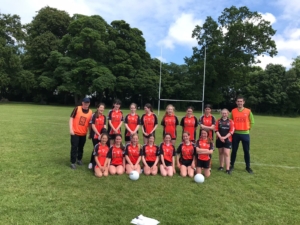 On a perfect day for football, our U13 C girls had their first competitive match against Lucan Sarsfield. Lucan got off to a flying start with some early goals helping build up a strong lead. The girls didn't lose heart and began to work their way into the game. A very strong performance in the second half where they restricted Lucan to only a couple scores saw them reduce the deficit. However they just fell short going down by 4 points on a score line of 3 -7 to 5 -5.