Another solid display from the U14 Beamers, this time in Ladies Football. Kilmacud came with a strong squad of 20 and put us under strong pressure from the start. Despite this, BSJ opened the scoring, before extending this to a two-point lead. Crokes were not intimated though and responded with a goal to take the lead, and a warning to BSJ that they could not let their guard down for an instant.
Tit for tat scores followed in a fairly even first half, but a more efficient performance in front of goal saw Crokes take a 3-1 to 1-2 lead into half time, despite some great saves from the BSJ goalkeeper, Alannah. Other notable first half performances came in the form of Aimee, for ball carrying up the wings, Caoimhe, a ball winner in midfield, and Ciara and Anna, the spine of our defence. And of course, Beth, deadly in front of goal.
The girls rehydrated during the interval, badly needed in another scorching day. And whatever changes were made or words were spoken had the desired effect, as the girls came out with fire in their bellies in the second half. A more attacking formation with Rose moving to half forward paid early dividends when she soloed the ball through half the Crokes defence and hammered it to the back of the net. Isabelle and Ana continued to carry the ball deep into the Crokes half to keep their defence under pressure.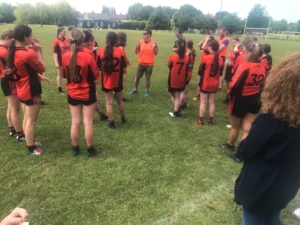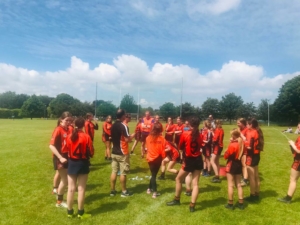 By the second water break spirits were much higher as BSJ came in with a 2 point lead, a significant turnaround from the half time deficit. But we realised that there was still a long way to go, with only one kick of a ball in the game.
The management team continued to rotate the squad to give everyone as much game time as possible, and the term "impact sub" does not do justice to both the influence they had on the game and contribution to the ultimate victory, with the finishing score line of 6-5 to 3-1, probably not doing justice to the effort put in by Crokes in the 2H. As well as the strong 2H scoring, the fact that the BSJ was able to keep Crokes scoreless in the second half underscored the strong team performance at both ends of the pitch.
Well done to Crokes for a great performance, a lovely bunch of girls and mentors. And to the BSJ U14b's, a brilliant start to the football league campaign. Lots done, but lots more to do, BSJ Abu!