Ballinteer St Johns are very happy to return to Gaelic Games on April 26 2021. Continued adherence to Covid guidance is critical to the success of our return to play.
If any player or any of their housemates are feeling unwell, or are a close contact of a positive Covid case, they must not train. 
Any players that return from international travel must not train for 14 days.
Training will be outdoors in pods of 15.
Health Questionnaires need to be completed for all players on the day of training 2 hours before commencing.  Follow the steps below for guidance.
For juvenile training,  one parent or guardian per child may observe training if deemed necessary.  They must wear a mask and remain socially distant from other guardians.
Drops & collects to be staggered as advised by team coordinators.
BSJ would like to encourage players to walk or cycle to training.  If travelling by car, only travel with members of the same household.
All players must have their own equipment and water bottle, no sharing allowed.
Hands must be sanitised at the start & end of training.
No congregating around pitch facilities before or after training; please "Get in; train; get out!"
For detailed information please review:
Health Questionnaire Completion Steps
Step 1 – Log-in:
Enter URL https://returntoplay.gaa.ie/   in your browser.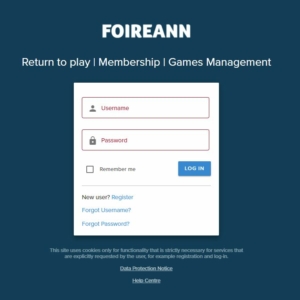 Enter your username and password – you can use the same as last year or set up a new profile if you have not used before.  The application is now named 'Foireann'.
Step 2 – Complete Health 
Questionnaire
There is new functionality in the app that BSJ are not using so you can ignore Membership / Schedule & Teams sections.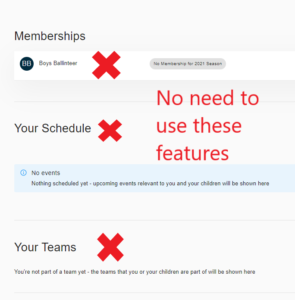 Scroll down to Health Questionnaire.  Click 'Add New' and complete the questionnaire. 
After you have done this once, you will be able to simply reconfirm for future training sessions if your health status has not changed.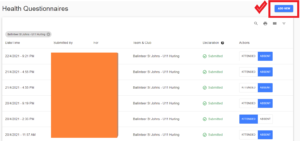 It is important to ensure you select the correct team.  In this example it is 'U11 Hurling'.  If your team does not appear, please go to step 3.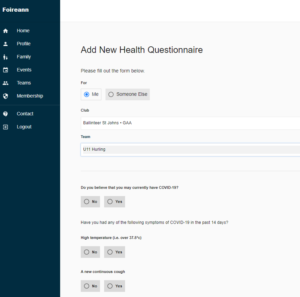 Step 3 – Check your profile
If you do not see your team in the drop down, you may not have the correct clubs associated with your profile.  For example, if you are wishing to submit a health questionnaire for a female player, you must have LGFA (football) and/or Camogie association added.  For a male player, the club should be GAA.