Catch up on our Adult Football Championship matches over the weekend with this match round up!
Great win for our Senior Footballers.
Our Seniors having lost by 4 pts by St Vincent's in the first round went into the game against Castleknock as underdogs. After a shaky first 10 mins we settled down well and despite playing against a very strong wind we were only 4 pts down at the first water break. After the break a great movement up the field ended with Eoghan Fitzpatrick coolly finishing to the net. At HT we were a point down, 0-9 to 1-5. On the resumption we kicked some great points and withAodhanClabbyconverting all our frees we went into the lead for the first time. Oran McIvor then came off bench to kick 2 outstanding points. Castleknock got an opportunist goal when a free came off the post and was finished to the net. However, we responded quickly when a quick break out of defence resulted in a four-man movement up the field and AodhanClabby palming to the net. Two superb points from Eoghan Fitzpatrick in the closing minutes sealed a great win. Best for us in what was an outstanding team performance were Dan O Leary, Joe Sweeney, Fearghal Duffy, AodhanClabby, Aaron Bradshaw and Eoghan Fitzpatrick. Next up is KilmacudCrokes w/e 10th October
Final score BSJ 2-15 Castleknock 1-13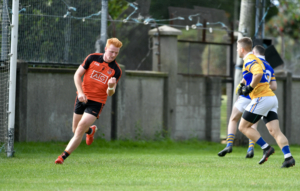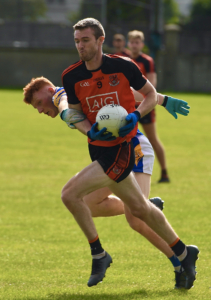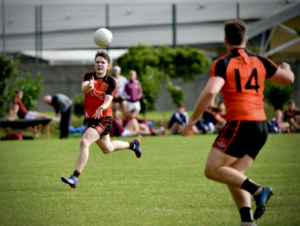 Lots more match Photos by Paul Lundy can be viewed at https://flic.kr/s/aHsmWL923o
Intermediate Football Team
Our Intermediate team playing in the Junior 1 Championship drew with KilmacudCrokes in the first round coming from 8 pts down at the second water break. In the second round we faced Na Fianna and despite dominating the game for most parts we lost by the narrowest of margins.Poor shooting and the concession of goals scored on the break were the main causes of this defeat. We now go into our last game V St Peregrines still in with a chance of making the QTR Final.
Final Score: BSJ 1-14 Na Fianna 3-9
Junior Football Teams
Our Jun A team playing in the Junior 2 Championship got a walkover from O Tooles.
Our Jun B team were well beaten by Garda in the Junior 3 Championship.
The Junior C team produced a magnificent team performance on Sunday to defeat St Finians of Newcastle on their own patch. Playing with the aid of a strong wind in the first half we went in leading by 7 points with Cian Duffy contributing 5 points and 2 each from Conor Murphy and Brian Gibbons. The second half required heroic defensive performances from the Hells Kitchen full back line of Shane Duffy, Tony Gillick and Richard Clune and with Shane Holland and Derek Reilly dominating around the middle we managed to maintain a lead throughout. A point from an impossible angle into the wind from Brian Monahan after great work by Rory Kyne Mitchell Moody and 2 crucial late points from play by Eamonn Brennan means the team go into their last game knowing a win will see them the through to a quarter final.
 Final Score Ballinteer St John's 0-17 St Finians Newcastle 1-12