It's coming up to that time of year when our pitches are a sea of colour for our Lisney Mini All Irelands with so much anticipation of fun, excitement, friendship, teamwork and competitive spirit.
With the Lisney Mini All Irelands comes that feeling that the summer break from training and matches was coming. Long summer evenings on our pitches with our youngest players placed in county teams to play an All Ireland style tournament. Sidelines are lined with support from parents, grandparents, siblings and friends. Such a super time at Ballinteer St Johns!  Book here!
Players from our 2012 – 2017 age groups will be divided into teams and then play games against each other.  The teams are balanced to allow for maximum enjoyment and participation. Each team is named after a county and each player gets a team t-shirt to wear for the matches. It's a non-competitive and fun event with each team managed by mentors from the age groups participating.
During the first week the boys and girls will play Gaelic Football, followed in the second week with a feast of Hurling and Camogie! The games are played from approx 6pm to 8.30pm during the evenings. Each age group will be assigned a 1 hour slot, starting with the youngest groups at 6pm. Each age group will play 2 evenings a week which encompasses the round robin stage and finals on the last evening. Some finals will take place the day of our Family Fun Day, 18th June 2022.
2020 would have marked the 10th anniversary of Ballinteer St Johns Lisney Mini All Irelands. Fast forward to 2022 and with no Mini All Irelands since 2019, many of our players haven't had the opportunity to experience this special event, we have alot to to be proud of and so much to look forward to this year together with our sponsors Lisney Dundrum!
We can't wait!! New to the Mini All Irelands or want to take a trip down memory lane have a look at this little video!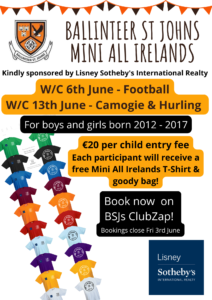 By trishmcgrath23
Tue 10th May