Last Saturday night in the clubhouse saw presentations made to football stalwarts Gerry O'Donnell and Kieran Duffy on the occasion of their retiring from coaching.
Gerry's involvement in coaching stretches back 35 years initially in the juvenile section before progressing to the adult section where he served with numerous managerial tickets, including the historic promotion to Division 1 five years ago. He managed the Junior 2 team for 10 years and generations of players can give testament to his dedication, professionalism and coaching ability. Gerry also served in several executive officer positions within the club, providing sound guidance as Treasurer of the club before a memorable stint as chairman where he oversaw the construction and opening of the clubhouse.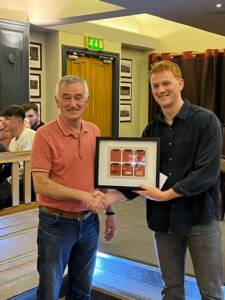 Kieran joined the club in 1991. He spent 10 years as Nursery Co-Ordinator during which time he oversaw huge growth in numbers and progressive development of the nursery facility. During that time, he managed the 1986 boys footballers to minor. He then manged the 1992 boys' footballers to minor. This team was successful in winning the famous three in a row Corrigan, RoundTowers and Hanrahan Cups beating Ballyboden St Endas each year. He was CCC 2 Board Delegate for six years. He was seventeen years on the Executive serving as Secretary, Assistant Secretary, Chairman and Vice Chairman. He managed the Junior 2 team and then in 2018 he took over as manager of the Junior 1 team and in the first year we were promoted to Intermediate status. He stepped down this year but continues his involvement in several roles.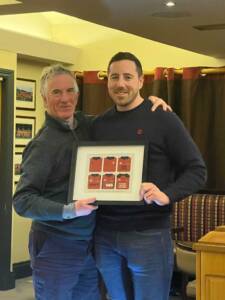 The apple never falls far from the tree and it is no surprise to anyone that the next generation of both families are carrying on the good work with Colm O'Donnell managing our Inter team and Colm Duffy a selector with the senior team. Both Gerry and Colm can look back with immense pride in their pivotal roles in the development of the club on and off the field of play and while they may be stepping back from frontline coaching duties both men remain familiar faces around the club and I'm sure will remain involved and generous with their time and vast experience for the rest of their lives.
Anthony O'Connor
Cathaoirleach
Ballinteer St. Johns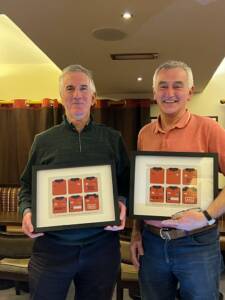 By trishmcgrath23
Wed 1st Feb