The Club is recruiting a Groundskeeper.  This is a new role at Ballinteer St Johns.
With almost 4000 members and 2,400 players across 165 teams to organise each week, there is a lot to do to have everything prepared for them.
The successful candidate will undertake duties across our locations to ensure our facilities & equipment are maintained and organised for training & matches.
Job Description:
The role will be offered to a candidate who will be required to:
Line pitches.
Install nets and flags before matches on all pitches including midweek matches and removing them when matches are completed returning all equipment to safe storage.
Clean the all-weather pitch and toilets and restock them every week.
Clean the Aras and the new meeting room.
Tend to pitch care and fill holes with topsoil.
Remove weeds and rubbish from the AWP and Mini AWP.
In the summer months use the sprinkler system to keep pitches in playing condition.
Garda Vetting will be required.
If this sounds like a role you are interested in, we would love to hear from you! Please send an up to date CV to secretary.ballinteerstjohns.dublin@gaa.ie
Ballinteer St Johns is an equal opportunities employer.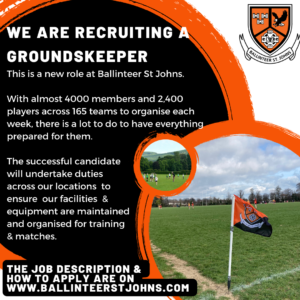 By trishmcgrath23
Mon 27th Mar