Ballinteer St Johns GAA Club is working with Festival Republic (promoters of Longitude event) and Dun Laoghaire Rathdown (DLR) County Council to provide community stewards for this year's Marlay Concerts.
This year's concerts are: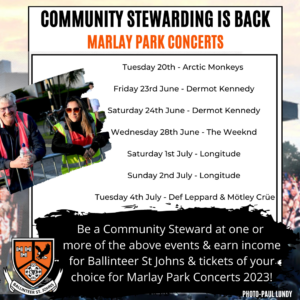 By volunteering to steward, you will help your community, concert goers and your club. BSJ gets a substantial donation from the concert promoters, and you will get a Concert ticket or 1 day Longitude ticket of your choice for each 12-hours of stewarding.
We need club members and families over 18 years of age, including parents and grandparents to volunteer for shifts over the evenings of the concerts and over the three days of Longitude. You can choose between full day shifts (12 hours), half day shifts (6 hours) and short shifts (4 hours) depending on your availability. Choose the time of day and area that best suits you and let us know which club team you or your family is supporting.
You could also ask workmates or friends to help and they will receive a ticket for the concert of their choice! We have limited slots available for people from outside the BSJ family. If you or your immediate family is not a club member, or you are a friend or workmate you will need to get a club member to vouch for your attendance. Please provide the email address of that club member so we can verify your attendance with them.
You will be guiding concert goers to and from the event and guiding them away from residential areas. This is NOT a security role – any security issues will be referred to the professional security teams and Gardai.
To choose your stewarding days and times, please go to our Registration Page – Choose your times!  and register to provide the necessary details.
Thank you for your support, it really will be a huge help to your club, Ballinteer St Johns Abú
By trishmcgrath23
Tue 30th May